Synopsis:
In the beginning, there's a boy standing in the trees…
Clara Gardner has recently learned that she's part angel. Having angel blood run through her veins not only makes her smarter, stronger, and faster than humans (a word, she realizes, that no longer applies to her), but it means she has a purpose, something she was put on this earth to do. Figuring out what that is, though, isn't easy.
Her visions of a raging forest fire and an alluring stranger lead her to a new school in a new town. When she meets Christian, who turns out to be the boy of her dreams (literally), everything seems to fall into place and out of place at the same time. Because there's another guy, Tucker, who appeals to Clara's less angelic side.
As Clara tries to find her way in a world she no longer understands, she encounters unseen dangers and choices she never thought she'd have to make between honesty and deceit, love and duty, good and evil. When the fire from her vision finally ignites, will Clara be ready to face her destiny?
Unearthly is a moving tale of love and fate, and the struggle between following the rules and following your heart.
Review:
I'm here like..
FINALLY!!!! 
FREAKING EFFING FINALLY!!!!!! 
I LOVE EVERYTHING ABOUT TUCKER AVERY THIS BOOK IT'S INSANE!
Clara may be one of my most admired and loved female protagonist out there! Despite her "unearthliness", she's pretty much like a normal teenage girl. She has her own insecurities about herself, she knows her flaws but she tries to do to her best to not let these things stop her. She's smart, strong, witty, sweet, kind and very believable! I just wanna be freaking friends with her! 
Her relationship with her family although is not perfect, I still love it! I love how she and her brother, Jeffrey, have that love-hate relationship that siblings have. And her "I-love-you-Mom-but-you-just-annoy-me-sometimes" thing that goes on between her and her mom, is just so relatable! Also, the awkwardness she feels on how to deal with her best friends (who by the way is very much different, Yes. Even in species), Wendy and Angela, at the same time is just so realistic, I'm like.."YEAH! I SO KNOW WHAT YOU FEEL!"
And most importantly…
You know what's coming…
I LOVE HOW HER RELATIONSHIP WITH TUCKER STARTED! There. I said it. I'm totally Team Tucker from the very first time he opened his mouth!!! AHHHHHHHH!!!!! It the "I'm-gonna-annoy-you-to-death-to-show-you-how-much-i-like-you" kind of beginning and it was so FREAKING ADORABLEEEEEEEEEEEE!!!!!!!!!!! I mean, the we-are-meant-to-be-together-love-at-first-sight love doesn't do it for me anymore. And all their bickering and teasing and annoying the hell out of each other is just so cute, I just turn in to a giggle monster every time! And it doesn't help that Tucker is such a gentleman, funny, sweet, charming, kind, cute, adorable and an oreo-smelling cowboy!!!!! Who doesn't want a man like that?! (Especially the oreo-smelling thing. Damn!!! I LOVE OREOS!!!!!!!!!) I just love him so much it causes me physical pain in knowing that he's not real. *sobs* 
But really, I just went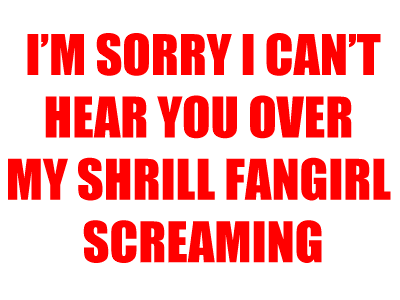 from Clara's birthday up to all their sweet scenes and their adorableness!!!!!!!!!!!!
It's was like..
BAM!!! 
BAM!!!!! 
BAM!!!!!!!!! 
BUTTERFLIES AND RAINBOWS AND EVERYTHING IS BEAUTIFUL AND NOTHING HURTS!!!!!!
*dies of cuteness overload* 
This was just a very fun ride for me, that I recommend it to all of the people who populate the world!!!
EVERYONE SHOULD NOT MISS A CHANCE OF READING THIS AWESOMENESS! 
 
Now on to Hallowed!